Bobbinless Coil
//

Winding Machines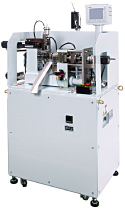 BLS-0135 and BHS-0155 are precise coil winding machines designed for various bobbinless coils. By utilizing a rigid traverse guide, perfect layer coil winding can be performed using mandrels without a slit groove wire guide.
BIF-01 is a flyer-type winder able to wind thin wire that is best suited for air coil winding that doesn"t require perfect layer winding.
TAK-01 / YOK-01 are compact and economically priced but high performance bench top coil winder with servo motors to control the spindle and the traverse drive.